"NC" Hi-Frequency BEACON
NC Hifer Transmitter
V 2003.02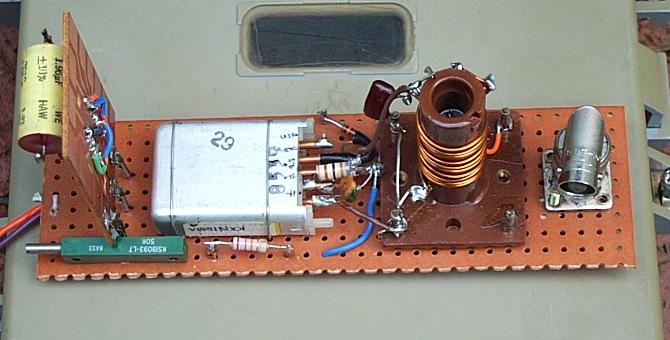 The current NC Hifer transmitter consists of a VHF Motorola Mitrek TX channel element. The element uses a crystal in the 12 to 14 MHz range which is multiplied by 12 for the VHF band. These channel elements are normally fairly stable with the original crystal. However if the element is recrystaled without sending it to the crystal manufacture for temperature compensation they are not likely to be frequency stable with temperature changes. So far I've seen this element drift +/- 50 Hz of the crystal frequency of 13.5555 KHz with day/night temperature changes. I'm considering plotting a freq / temp graph and call the unit a wireless thermometer.
The high impedance output of the oscillator is lightly coupled to the top of a parallel LC network. This circuit provides easy matching to the coax output and harmonic filtering. The coupling capacitor value was selected to provide 2 milliwatts of output power measured at the 50 ohm output connector.
The square wave is produced by a 555 timer chip which slightly varies the oscillator's regulated 9.5 volt supply. Shift is adjusted with the 50K multi turn pot. A small IC keyer may be added later but for now I wanted to stay with readily available parts so that I won't worry about disconnecting the beacon every time a thunderstorm pops up. (Nearly every day so far this summer)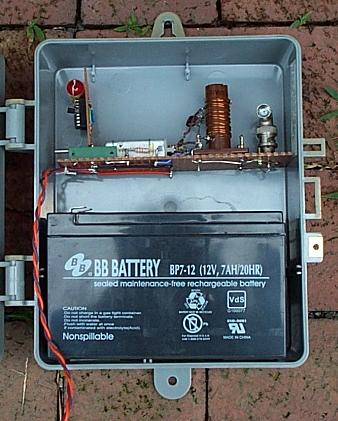 The transmitter is mounted in a recycled PVC box and is presently powered by a battery. A fully charged battery should power this circuit for about a month but a small solar panel may be added.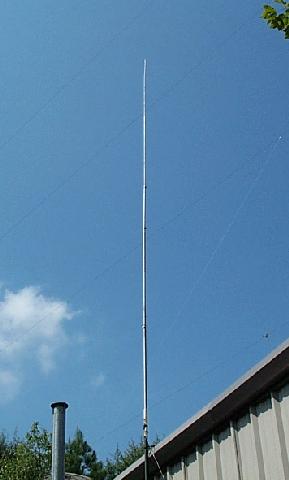 The Hifer antenna is a simple 1/4 wave vertical. The metal building serves as a ground plane.
---
First day of operation - 20 May 2001
QRSS 3
Reports received on first day by:
Steve McDonand British Columbia
Mike Reid Minnesota
Lyle Koehler Minnesota
John Andrews Massachusetts
Paul Cianciolo Connecticut
Jonathan Jesse Massachusetts
John Reed Oklahoma
Jim Shaffer Illinois
Denis Cote Massachusetts
Phil Atchley California
Mitch Powell Ontario
Bill Ashlock Massachusetts
First Reception in JASON Mode made by Nick, W5FUA, Austin, Texas on 14 July 2002
---
Roger Thompson, Smithville, Mississippi - Argo copy of Square Wave on 11 Jan 04

---
Best DX
Steve Olney, VK2XV / VK2ZTO,
North Richmond NSW 2754 Australia
22 April 2012 9566 miles (15395 km)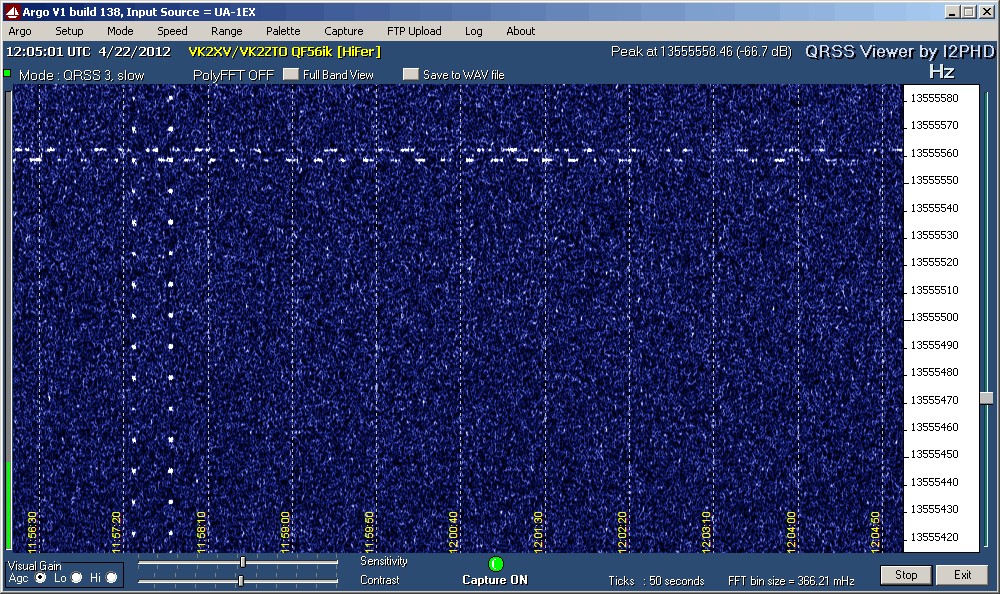 ---
Other DX
Laurence Howell KL7UK / 3D2K1 Pacific Harbor, Fiji
26 June 2004 7417.9 mi (11938.0 km)

---
Peter Knol, PA1SDB, Appingedam
NETHERLANDS on 13 June 2004

---
On 6 February 2004 NC HiFER made a temporary moved to 13.556 MHz for a test running normal CW at approximately 10 WPM. First report came from Lyle Koehler shortly thereafter. For current frequency and mode click here to see the
NC HiFER Reception Reports while sending 10 WPM CW
| | | | |
| --- | --- | --- | --- |
| 06 February 2004 | Lyle Koehler, KØLR | Aitkin, Minnesota | 1035 miles |
| 06 February 2004 | Lewis Denton, WA4LIP | Mobile, Alabama | 553 miles |
| 07 February 2004 | John Andrews, W1TAG | Holden, Massachusetts | 671 miles |
| 17 February 2004 | Tom Lau, N8TL | Findlay, Ohio | 438 miles |
| 21 February 2004 | David Tomasko, K9QU | Downers Grove, IL | 611 miles |
| | | | |