AF1T / W4DEX 10 GHz Rain Scatter Contact
21 August 2005 @ 2015 UTC
1008 KM / 626 Miles
A contact was made on 10 GHz between Dale, AF1T, operating portable from Block Island, Rhode Island and Dex, W4DEX located in North Carolina during the first weekend of the ARRL 10 GHz contest on Sunday, 21 August 2005. A few small storms started building in eastern Virginia and North Carolina by mid afternoon. After making only five 10GHz contacts on Saturday I was thrilled to work Russ, K2TXB via rain scatter off a small cell located between Richmond and Norfolk, Virginia. Russ and I have made this path via rain scatter several times and also via tropo. After our contact, Russ advised me that Dale, AF1T, would like to give it a try. After entering Dale's location into K0SM's rain scatter program I told Russ that Dale was way out of range, especially for this storm. But as always I willing to try so I ran a long series of CQs which was also heard my Roger, W3SZ. (Click for 148kb .wav file of my signal received by W3SZ, Reading, PA) When Russ said Dale was hearing my signal and to give him a call I did and we easily completed the contact. Dale's signal was about S3 with the typical rain scatter distortion. I recorded Russ's signal but due to the excitement I did not think to catch Dale's. (Click for 79kb .wav of K2TXB, Vincentown, NJ) (frequency shift due to tuning, not drift) W1MKY was operating at the same location as Dale so Russ told me to call her for another contact. However Mikie was unable to hear my signal. Your can see how quickly the intensity of the storm changed on the second radar map below made only 10 minutes after the contact with Dale.
The path distance as calculated by BD2000 using the center to center of the gird method is 1008 KM or 626 miles. The actual path distance as determined by K2TXB:
From grid EM95tg to grid FN41ee
Distance = 628.251 mi, 1011.072 km
True bearing = 46.86°
Reverse bearing = 232.31°
EM95tg at 35:15:22 - 80:22:48
FN41EE at 41:10:32.8 - 71:35:27
The distance is 52 Km (32.3 miles) longer than the previous record
---
Site and equipment information from AF1T:
The site at Block Island, Rhode Island, is on Beacon Hill, the highest point. We operated from a stone Observation Tower, built in 1927. It resembles a castle turret and has a 12' inside diameter. Elevation is about 230 ft. above sea level. Location is in the Eastern end of FN 41 EE.
Photos by Ken Tata, K1KT
(Click on picture for full size view)
The contact was logged at 2015 UTC ( 4:15 EDT ), with cw signals peaking 5-5-9. I had to aim 228 degrees, even though the direct bearing would be 238 degrees. This gradually shifted East to 226 degrees. We should have tried SSB and recorded this! It was definitely Rain Scatter.
AF1T equipment: a DB6NT Transverter ( kit ), driven by a 2-Meter IC-202, with a DL2AM 2-Stage Amplifier, and AF1T H.B. Pre-amplifier and a 24 inch MA/COM Dish. Output Power is 10-Watts and receiver N.F. measured 1.25 dB.
---
Site and equipment information for W4DEX:
I was operating from my home QTH in EM95tg. The 10 GHz transverter was constructed with G3WDG modules by my microwave elmer, W4OJK (sk) in 1991. (I'm sure Bob was smiling while this contact was being made.) IF radio is FT-221. RX pre amp is modified Ku LNB. Power amp is a Hughes1177/H TWT running approximately 15 watts into 3 db of elipitical waveguide. The antenna is a 2 foot dish obtained from Jeff Kruth a few years ago. The antenna is located about 105 feet above ground. Click thumbnail below for large picture.

---
Below is a screen shot of K0SM's rain scatter program showing the small storm used for this contact. Andy's program has taken the drudgery out of calculating rain scatter paths. I have spent many hours calculating paths the hard way so I am expecially greatful for his effort. This contact most likely would not have happen without this tool. If you are the slightest bit interested in microwave rain scatter you will enjoy this program. Find it here: http://www.frontiernet.net/~aflowers/rainscatter/ Also this contact would not have happen without liaison from K2TXB. Russ made it possible even though it bumped his NA rain scatter record set in 1997 while operating W2DRZ.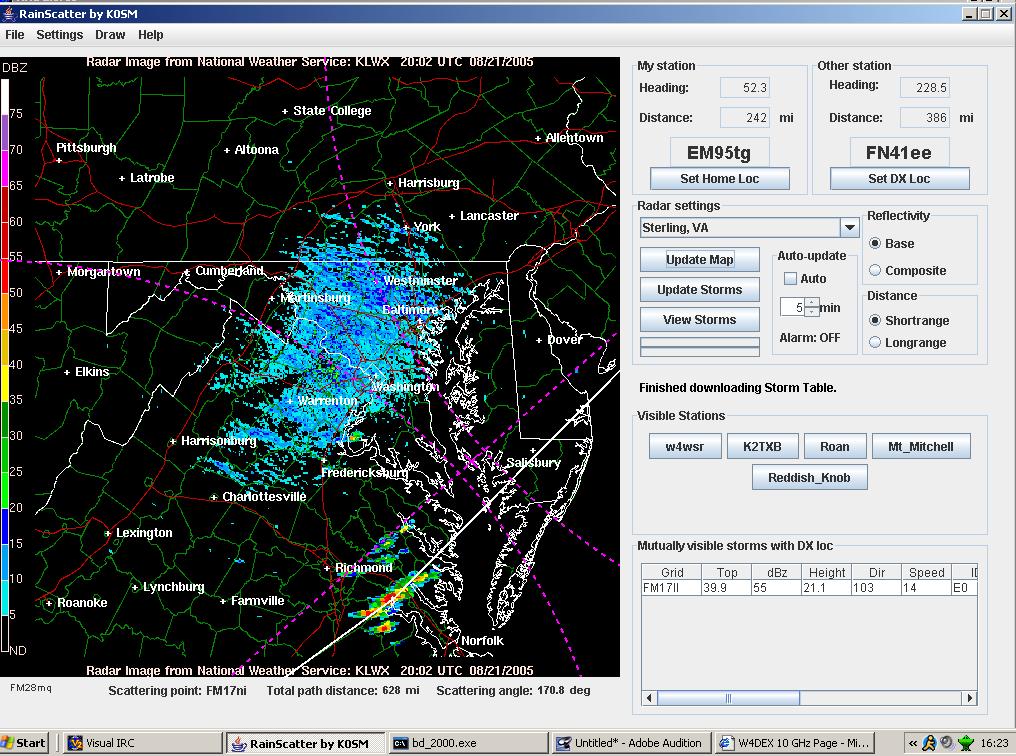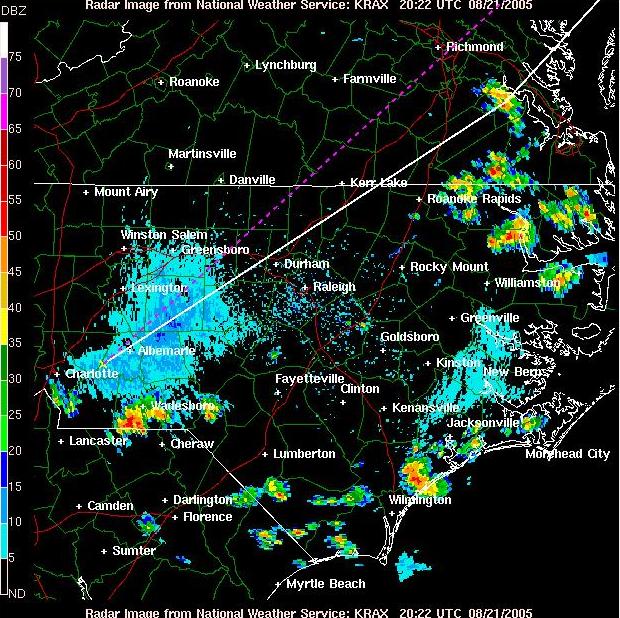 ---
---